Review Us:
Please mention your Sales Associate, Service or Parts Advisor by name!!!  
Thanks
from the entire staff at Papa's.
Some require sign in or 5-6 step sign up
Rate Us on Google Plus (Click Here)
Rate Us on Dealer Rater (Click Here)
Rate us on Yahoo (Click Here)
Rate Us on Yelp (Click Here) *
Rate Us on SuperPages (Click Here)
*A word about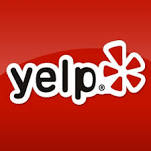 Unfortunately not all reviews sites are created equal. We do not pay Yelp for advertising so you will notice another business advertisement on our Yelp page. We take great pride in our customer service and we are among the highest rated customer service Chrysler, Jeep Dodge Ram Dealerships in the country. When ever someone purchases a new vehicle they get a survey from the manufacturer. Our customers satisfaction scores are extremely high and we take great pride in taking good care of our customers. We do not pay for reviews and testimonials. Sadly for some reason many of our good reviews on Yelp did make it and got filtered off. This may give you the wrong impression of how we do business.
Please see just some of our "unrecommended" Yelp reviews by clicking here.